PetMeds® Expert Corner Biographies
Dr. Lindsay Butzer, DVM Doctor of Veterinary Medicine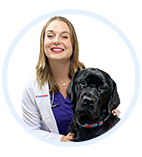 "I believe in providing our pets with as close to an evolutionary diet as possible. Many of the processed commercial pet foods today are made with lower quality ingredients, too many refined carbohydrates, as well as sometimes unhealthy additives and preservatives. A proper and balanced homemade diet is ideal; however, when looking for a natural commercial diet, I try to find one that has good quality meat ingredients in two out of the first three ingredients listed on the label, preferably not meat by-products. For my feline guardians, I am a strong believer in wet food or meat-based diets, as many dry food only feline diets may lead to an increased incidence of obesity, diabetes, and/or feline urologic syndrome, especially in those cats who graze on dry food throughout the day.

Veterinarians receive minimal formal training on nutrition in veterinary school. As a result, some veterinarians often make pet food recommendations based on what sales representatives tell them. Fortunately, in recent years, there has been a great expansion of wonderful quality and natural brand commercial pet foods."
---
Dr.Lindsay Butzer is a small animal veterinarian who provides general medicine, holistic alternatives and performs surgery for her patients.
She earned her Bachelors of Science at Colorado State University while working part time as a research assistant. She then went on to graduate from Ross University with High Honors in her class and completed her clinical year at Tufts University.
Dr. Lindsay has seven years of experience treating pets in her community and has a passion for veterinary reproduction and geriatric pet care using medicine, holistic approaches, diet and physical therapy to enhance and prolong pets' lives.
"My approach to veterinary medicine is scientific and methodical. I am conservative when it comes to using strong antibiotics and harsh treatments and always start with the most non- invasive treatments and methods.
"I also look at the animal's lifestyle, diet, environment and routine to help make changes before prescribing medication. I believe it is my responsibility to educate pet parents with my knowledge so that they can continue to take the best care of their pets at home to help them live the longest and happiest lives possible."
Dr. Lindsay is well-known for inspiring the next generation to care for animals through her YouTube channel and social media platforms. Her love for animals and science was nurtured by her father Dr. Brian Butzer, who's also a veterinarian.
"I believe every person, child or family should grow up with and own a pet. Cats and dogs have always been a part of my life and I think they have contributed to my positive and spiritual outlook on life." says Dr. Lindsay.
"The human-animal bond, which includes love, affection, dedication, and happiness radiates energy to people that nothing else can compare to. Owning a pet teaches children commitment and responsibility and gives adults a furry friend to look forward to coming home to after work.
"I am also a big believer that animals can heal us in times of difficulty or stress. I got a puppy during my battle with leukemia and all I could look forward to was getting out of the hospital to see her again."
Dr. Lindsay has five dogs and four cats of her own. When she's not caring for her patients, she enjoys training and exercising with her dogs and playing tennis.